Boudoir Photography Pittsburgh, Boudoir Photographer in Pittsburgh
Sit back and let your jaw drop! This is a mega post! Lots 'o words and lot's more photographs from this amazing boudoir session. Boudoir shoots are not one size fits all. We offer 2 shoots for our clients. One features more time, more wardrobe changes and full styling. The other shoot is shorter on time, kept to 1 wardrobe look and adding styling is an option but is not included. I have no real vested interest in which shoot fits your needs. I do think styling can make or break your session. I just feel sassier after I am fluffed and glossed but that doesn't mean your shoot MUST include it! You can opt do your own or find your own stylist prior to your session. This particular client came in and choose the shorter session and opted to ADD full styling to her shoot. I wanted to highlight how we used her 1 wardrobe option through out the shoot and peeled it back to give her several evolving looks. In the end, she chose to purchase an album. Her album was incredibly cohesive because we worked with 1 color palette and style of lingerie. Some clients are afraid that the single hour will not be enough for their shoot. I fully understand this. I know that in 1 hour I can do everything to coach and direct you for your best images and because we are not changing your wardrobe look several times, the full our is maxed out to it's fullest potential.
To boost the power of the one hour shoot, our stylist was schedule for hair and makeup. The requested look was Kim K meets Dita. Full big hair with a soft contoured eye and deeper red lip. We began this session in a full bridal inspired white look complete with stockings. We spent some time enjoying the stockings then we removed them from her garter belt but kept the suspenders. Eventually the belt was removed as well, leaving her in bra and panties for part of the session. I love to add a nude portion or implied nude to all of our shoots. I love the raw sensuality of your skin being your wardrobe. After her bra was removed we used her hands, arms and hair to cover her breasts, voila! an implied nude. 1 wardrobe option, 5 looks! 1 hour shoot with styling, fully maximized!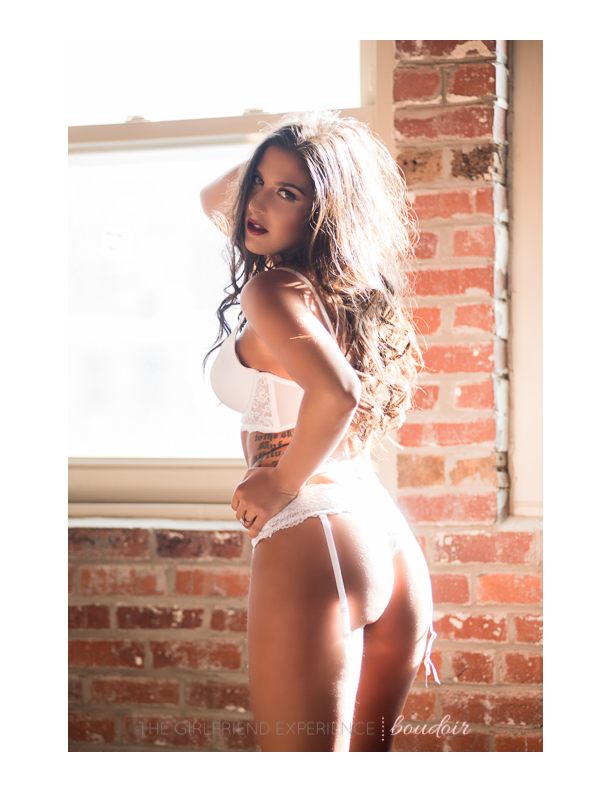 I want to book my boudoir shoot!